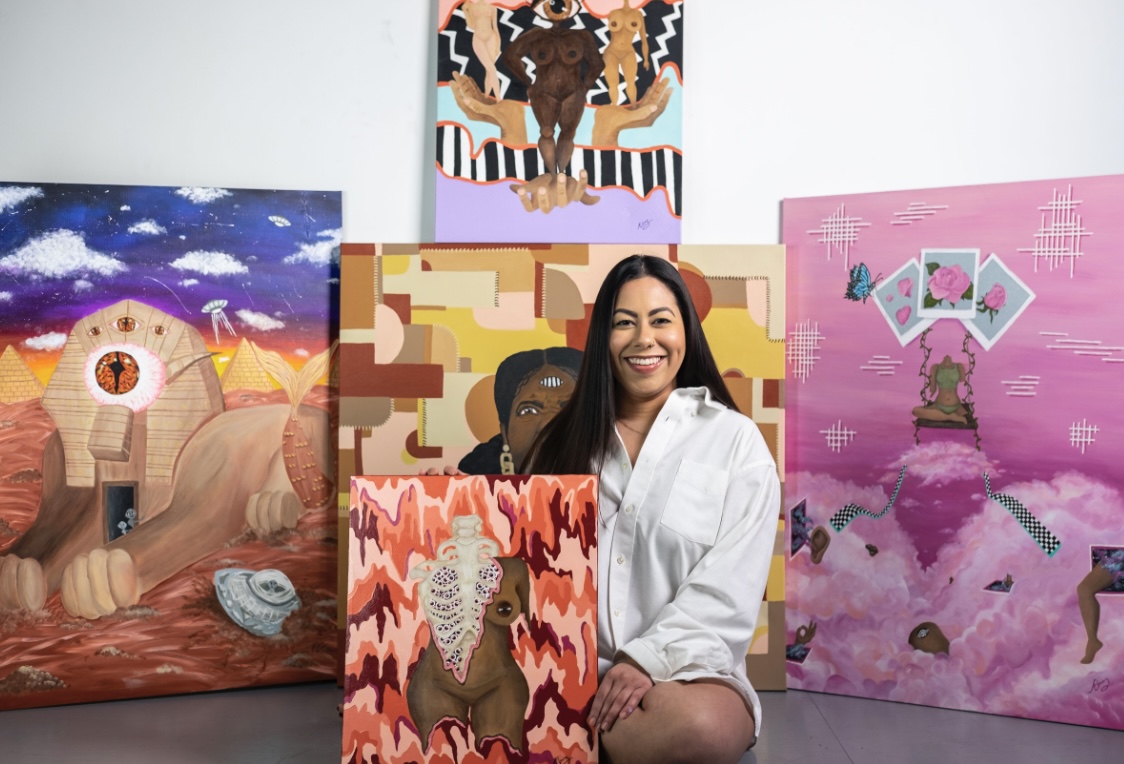 I'm Glad You're Here
Born into a strong, Puerto Rican family that has always encouraged self-expression, I've known to follow my passions from a very young age. My life growing up was always filled with music, delicious food, friends and family. To this day, my Papi plays the guitar, bongos, and congas and you can hear his music softly spilling out of our home in the evenings. The sound of brush strokes against a canvas reminds me of my maternal family as I come from a long line of painters. I desire to live through my individuality while simultaneously creating a safe space for others to do the same. I hope my art charges you with the same energy it gives me.
Artistry is in my blood. It serves as a therapeutic outlet to navigate my feelings that I often bottle up. I have learned more about myself and how I view the world through artistic expression more than any other external source. In hindsight, I realized throughout life, anytime I was stressed out or feeling overwhelmed, I turned to drawing and painting. I started my artistic journey in middle school through the performing arts. I continued doing theatre through college and graduated from George Mason University with a Bachelor of Arts degree. Attending a liberal arts college gave me the opportunity and flexibility to explore all mediums of art in a safe learning environment.
"All art should inspire and evoke emotion. Art should be something you can actually feel."
– Chris DeRubeis
I always knew at some point in my life I wanted to find a way to express my creativity while being a business owner. After I graduated college, I discovered my gift in visual arts and the real spark to open Evokeaholic Art Shop was when I discovered Giselle Ibarra, otherwise known as Sincerely Art on Instagram. I was inspired by her surreal styled paintings and her work ethic. I had this feeling in my soul that I could paint something in this style that I had so quickly grown to admire. That is when I decided to pick up a paintbrush again and thus my first piece The Truth was born. I unleashed a new part of myself that would guide me to become the independent, creative, and driven Latina woman I always dreamed of becoming. I knew at that moment I was living in my gift and over the next few months, I decided to turn it into the opportunity to be my own boss. The ability to build a safe, inclusive community where I can evoke an emotional response through my art and start a global dialogue is the true meaning of art to me.
"Vulnerability is the birthplace of innovation, creativity, and change." – Brene' Brown
I'm excited to see my growth as I continue to evolve and hope that Evokeaholic inspires you to follow your intuition, practice self-growth and healing, and live fully and unapologetically in your gift. I'm glad you're here.
With love,
Arianna Flores-Moya